SALADS
HOUSE  LRG & SML  8/6
CAESAR  LRG & SML  9/7
GREEK SALAD  LRG & SML  11/9
ADD CHICKEN BREAST  6
APPS & SNACKS

COCONUT SHRIMP & SWEET CHILI  11
PILOT POUTINE w/ MOZZA, ST. ALBERT CURD & BACON  10
CHEESE PIEROGIES & SOUR CREAM  7
BREW CITY BLACK & TAN ONION RINGS  8
SCOTCH EGG & CURRIED KETCHUP  6
MOZZA STICKS & MARINARA  9
BREADED PICKLE SPEARS & RANCH  9
HANDHELDS
BBQ CHICKEN CAESAR WRAP  13
TURKEY CLUB WRAP  13
BLT  12
PILOT REUBEN  15
CHICKEN FINGERS & PLUM  13
BREADED WINGS w/ RANCH & BBQ  13
NACHOS w/ SOUR CREAM & SALSA  12
MARGARET'S PIES &
PUB DINNERS
STEAK 'N KIDNEY PIE  15
CURRIED LAMB PIE  15
STEAK 'N MUSHROOM PIE  15
ENRIGHT MEATLOAF w/ GRAVY  15
KIDS MENU  7
POGO
FISH FINGERS
CHICKEN NUGGETS
GRILLED CHEESE
COD: 2 PC/ 1 PC  16/13
HADDOCK: 2 PC/1 PC  16/13
SMOKED COD: 2 PC/1 PC  17/14
FRI. FEB. 22ND
SOUP  5
CREAM OF TOMATO
SANDWICH  11
GRILLED CHEESE (OLD CHEDDAR & SWISS) w/ HAM & TOMATO ON MARBLE RYE
SPECIAL  12
CRAB QUICHE w/ GREEN ONION, MOZZA & PARMESAN
DESSERT  5/6
APPLE CRUMBLE PIE w/ ICE CREAM
or
CHOCOLATE LAVA CAKE w/ ICE CREAM
Situated in the heart of Downtown Kingston, The Pilot House is the ideal place to meet friends, share a pint and enjoy the best fish & chips in town. Our friendly staff and relaxing atmosphere are sure to make you feel right at home.
What's up at the Mother Ship?
There are no upcoming events at this time.

9 hours ago
It's the #weekend, #FinallyFriday Features! LIVE Major League Rugby at 8pm @torontoarrows @houstonsabercats #HOUvTOR #ArrowsUp + @RugbyCanada @chilerugbyoficial LIVE at 10pm! @usmlr #GoCanadaGo #ygk #🍻 https://t.co/E2T23oJpM4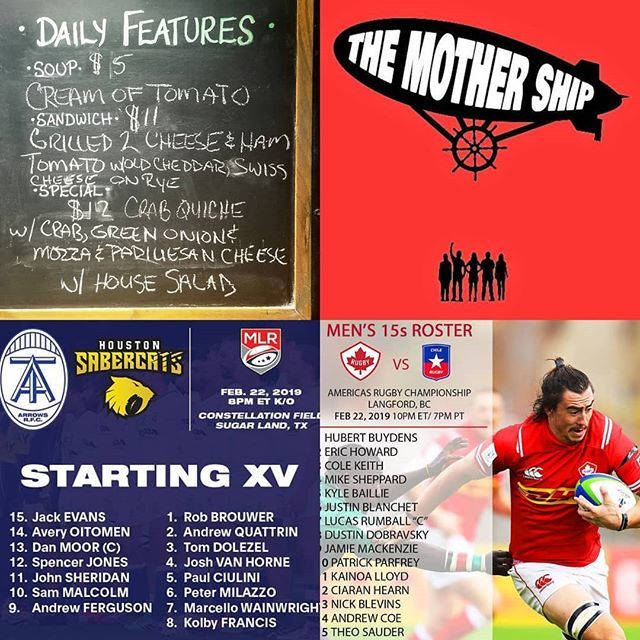 We've got Beers!
Newcastle Brown Ale
Old Vienna Lager
Strongbow Cider
Coors Banquet
Labatt 50
Guinness Stout
Smithwick's
KIlkenny Cream Ale
We've got Food!
LATE NIGHT MENU
Sun-Thurs after 9pm
Fri & Sat after 10pm
Cheese Pierogies & Sour Cream  7
Mozza Sticks & Marinara  9
Scotch Egg & Curried Ketchup  6
Pilot Poutine w/ Mozza, St. Albert Curd & Bacon  10
Breaded Pickle Spears & Ranch  9
Brew City Black & Tan Onion Rings  8
Coconut Shrimp & Sweet Chili  11
We've got Sports!
There are no upcoming events at this time.
Get in touch
265 King Street East
Kingston, Ontario K7L 3B1
SUN-WED  11AM-12AM
THURS-SAT  11AM-2AM
Mail – ahoy@pilothousekingston.ca
Phone: 613-542-0222
Pilot House
Open 7 Days a week 11am – 2am
613-542-0222
265 King Street East
Kingston, Ontario K7L 3B1